What's Happening Out There?
Calf Scours
We have seen many recent cases of calf scours. Rotavirus has been a common culprit and to a large extent is preventable by cow vaccination.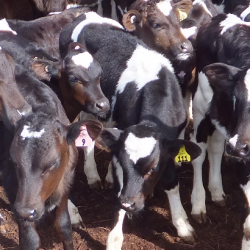 Bull calves have been making good prices and I constantly recommend that beef buyers buy calves from vaccinated herds.
For dairy farmers, we know that from time to time you get no calf scours and the temptation is to stop vaccinating. However you should be able to cover the costs of a vaccination programme with extra value from beef calves. It also gives you good cover.
The virus does not kill the calves. Dehydration and shock does. Fluids should be used aggressively. Many calves need 8 litres a day (but not all at once). 2 litres milk/2 litres electrolytes/ 2 litres milk/ 2 litres electrolyte. Spread this over the day.
Angus
Angus is on leave for the next 6 weeks. He is visiting his first grandchild and doing some traveling.
Repro Work– Book Now
Plan ahead and get your repro work booked in now. Get ahead of the game.
Disbudding
We'll be finishing disbudding calves in the next 2-3 weeks. Have you booked yours in yet?
Merial
Did you know that Merial Ancare is now owned by Boehringer Ingelheim? Rest assured that we still have the same range of popular and reliable Merial Ancare products available.
Ross
Mating
Feedback from farmers and our vets is that there are many skinny cows out there, and also that calving has spread out.
There will be many non cycling cows at the start of mating and we are already seeing farmers start to book in calls to suit their mating plan.
Here is a summary of some scientific papers that I have read and a newsletter article from a couple of years ago.
Conclusions Once daily milking of anoestrous anovulatory cows from 7 days before to 21 days after PSM, increased the percentage of cows detected in oestrus compared with twice daily milking. However, dairy milk yield was reduced by 21% during the treatment period. In addition, the interval from start of mating to conception was 7 days longer in cows milked once daily compared with cows treated with a CIDR device and ODB and milked twice daily.
Summary Of All The Reading…
 Starting once a day close to mating is a waste of time! It will cost you.
Start early if at all.
Some herds/heifers are more suitable to once a day. Particularly if high Jersey influence and cell counts well under control in the previous year.
Treating non cyclers once mating has started is of questionable value.
The main economics value of treating non-cyclers is days in milk in subsequent seasons and more heifer replacements.
Treating early allows you to do a 6 week pregnancy test towards the end of November and allow one more non-cycling treatment and a return before Christmas. Then bulls out! Also consider tidying up mating with short gestation semen.
I hear plenty of excuses about the weather being a problem. It is always a problem at this time of the year.
The solution is body condition at calving, and meeting cows nutritional needs around and after calving.
Body Condition Score
 No more than 15% of your herd should be below BCS 4 at mating or you need to revisit your management plan and, in particular, feeding and   drying off strategies.
Submission Rate
To attain a 90% submission rate in the first round of AI, cows must be cycling. For a 300 cow herd that means 13 cows a day need to be coming on. We have a number of farmers who are happy that 10 cows a day are coming on – THEY SHOULD NOT BE! By the end of the 1st round of AI they will have had 210 cows on instead of the 270 they need. If these 60 cows are treated at the end of the first round, they will be inseminated in the middle of the 5th week, 45% will get in calf and 33 will not.
So for such a 300 cow herd, 11% CANNOT get in calf in the first 6 weeks – result = lower 6 week in-calf rate, more empties, and greatly reduced profit next season.
Moral Of The Story
 If you are not on target to have 85% of the herd cycling by the start of mating, and you are serious about farming profitably – treat non-cyclers early – all cows calved 40 days or more but not yet cycled need to be treated the week before mating starts along with late-calvers 28+ days post-calving.
Ross
Mastitis
Jamie had an interesting high cell count outbreak recently. It looked like it should be an environmental problem but it was not totally!
Milk Cultures crew occasional cases of Serratia species of bacteria.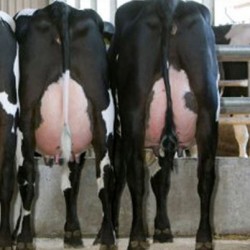 When we grew the bacteria directly from the teat spray then we knew we had a problem.
This is an unusual case that has its basis last summer when water quality was poor. Poor quality water was used to make up teat spray (dam water). Since then the spray container has been topped up and topped up.
If you are wondering about your spray then bring us a sample for culture.
The principle is that you should use water that is suitable to drink for the spray.
All spray containers should be emptied and flushed with good water at some stage. Leave tops secure on teat spray.
If you think you have a mastitis problem, please talk to one of our vets.
Drenching Dairy Cows
You should have drenched your dairy herd with EPRINEX by now.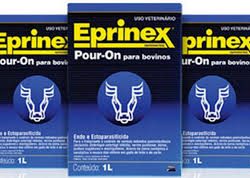 In New Zealand, a large trial using EPRINEX has shown the benefits possible from a treatment shortly after calving.
The heifers treated with EPRINEX showed a reduced calving to conception interval of 12.9 days. Treated heifers required 15% less matings, 19.9% increased pregnancy to first service and an 11% increased pregnancy rate overall.
These advantages will beneficially impact on the lifetime performance of the treated heifers and offer potential production advantages as these heifers calve-down early to their second lactation.
A more recent Canadian trial, also using EPRINEX at calving, showed similar reproductive benefits in both heifers and adult cows .