Looks Like A Great Season
The Team at NVG would like to wish you all a very happy new year. What a great start to the year we've had with all that rain (unless you have been camping)! Moving round the district it's great to see the maize crops with their toes dug in and growing well – such a change from a year ago. It would seem that nearly everyone has had a good dollop of rain to kick the year off very nicely indeed.
Important: Please ensure you read the antimicrobial resistance articles in this news-letter.
There is always a bit of a down side with everything. With rain in January, the down sides are a massive increase in parasite larval challenge, and facial eczema.
Mycoplasma Bovis
The monitoring and control measures to try and limit, and hopefully eradicate m bovis continue. There seems to be a slow but steady increase in the number of farms where it has been found or is suspected, with one, now, in the North Island (Hawkes Bay)
To date, there is no suspicion that it has found its way to Northland, but we need to  remain vigilant, and be very careful with farm biosecurity, and hygiene between properties.  We have emailed out, separately, a Farm Biosecurity Warrant of Fitness checklist, and some information on managing service bulls. While these are applicable to mycoplasma bovis, they are also of use to minimise risk over spread of BVD, lepto and other diseases.
In a normal year, when it is drought up here, a lot of cattle go south to grazing. This year the reverse may occur. Either way, use the Biosecurity WOF to check out where your stock are going to, or where stock coming on your farm are coming from, before        committing to the deal.
For more information on Mycoplasma Bovis including the Biosecurity Warrant of Fitness and Managing Service Bulls NZVA/DCV Mycoplasma bovis website and MPI website
Parasite Larval Challenge
Young stock (< 2 years of age)
Make sure you have a robust worm control programme in place for the young stock. If possible, spreading the calves out two per paddock over the home farm will greatly reduce parasite challenge, as the herd will clean up a lot of the worms for the young stock, reducing the need to drench.  Drench as necessary.
With current conditions, if run as a mob, calves and heifers may need drenching as often as every 4 weeks if using an oral drench, and 6 – 8 weekly if using pour-ons. With drench resistance a huge issue for sheep and goat flocks, and a   growing problem in cattle, it is essential to use combination drenches to slow the onset of resistance. Use at least a 2 way drench.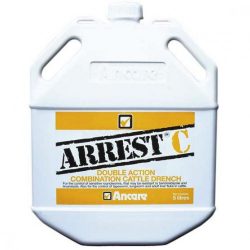 The oral drenches to use are:
Arrest C (albendazole & levamisole)
Switch C (abamectin and levamisole)
Matrix C (oxfendazole, levamisole & abamectin)
Iver Matrix Calf (ivermectin, levamisole & oxfendazole)
If Fluke is an issue on your farm, Switch Fluke 10 should be used periodically in the young stock as it is a combo plus fluke. Combat Flukecare Plus Se, with fluke plus a single active, can be used in animals over 2 years of age, as resistance is not a big issue in them.
Adult Cattle
By the time cattle reach the age of 2, unless they are underfed or in poor health, they have built up a high level of resistance to worms. While they still can carry significant worm burdens, they are able to suppress egg production, so are at low risk of  hastening drench resistance, and single active products can be used, eg Cattle Pour – the very competitively priced abamectin pour-on, and Eprinex, the premium pour-on on the market (kills more worm species, quicker, for longer, remember!).
In a season such as this the larval challenge will also be having a large effect on production in adult cattle.
There are 2 reasons for this. The suppression of worm egg production requires a significant amount of energy, but more importantly, as the Eprinex work showed, the worm burden has a major effect by reducing appetite, and thus intake. It is these two mechanisms that provide the large cost benefit shown in the Eprinex trials. By killing off the worms, appetite and intake improves, and energy required to suppress egg   production decreases.
For these reasons, with the high probability that we will have a good long season, autumn drenching of the herd, rather than at drying off, is likely to give better late season production and thus a very good return on investment.
Antimicrobial Resistance
This is the hot topic currently, and will be for some years to come. The threat of drug resistance is very real, with potentially   devastating consequences where we could return to the days of people dying from what we currently regard as "minor" infections, wounds or surgery.
While NZ's use of antibiotic in farm animals is very small compared to some countries, the pressure is on to reduce animal    antibiotic use generally, and particularly so for some drug families that are becoming the last line of defense in human medicine against antibiotic resistant strains.
Veterinary antibiotics have been divided into three groups –
Green:
Risk of resistance affecting human drugs is low. Fortunately most infections we encounter respond well to these, and they are the recommended "First Line" drugs for animal use.
They include the penicillins (Intracillin, Duplocillin LA), penethamate (Mamyzin, Penethaject), and the oxytetracyclines (Oxyvet LA, Engemycin, Bivatop)
Yellow:
These drug groups are at higher risk of resistance developing and affecting humans, and should be restricted to "Second Line" use under specific guidelines.
They include aminoglycosides (in  Vibrostrep and  Mastalone), Semi-synthetic penicillins (Clavulox LC, Penclox 1200, Bovaclox Dry Cow, Cloxamp Dry cow, Lactaclox LC), first and second generation cephalosporins (Spectrazol, Cepravin DC, Mastiplan)
Red:
These antimicrobials are considered important for hard – to – treat conditions in human and veterinary medicine, and should only be used, following a veterinary diagnosis on a case to case basis, with sufficient evidence of need.
They include 3rd and 4th generation cephalosporins, (Cefaguard, Excede LA), macrolides (Tyloguard, Tylan), fluoroquinalones (Marbocyl, Baytril).
The Bad News: As you can see, the commonest antibiotic we use for multi-quarter mastitis, Tyloguard/Tylan is in the red category, and should only be used after confirmation that other drugs are resistant to the bacteria involved. The nil milk withhold injectable antibiotics also fall in that category.
The Good News: Most multi-quarter mastitis responds well to penethamate (Mamyzin, Penathaject). Straight penicillin (Intracillin, Duplocillin LA) will work well on most infections the nil milk withhold injectable  drugs are used to treat.
As Tyloguard / Tylan can no longer be used as first choice, there is a need for rapid identification of the mastitis bug to be established, along with the antibiotics that it is sensitive to. To this end, soon we will have an in-clinic analyser that can do the milk sample ID and sensitivity testing and email you the result within 24 hours. This system has been independently assessed and verified against usual laboratory culture by Dr Scott McDougal, who does a significant amount of the mastitis research in NZ, so can be used with confidence.
Dairy Antibiogram – Good To Have Before The RVM Consult
This is a another new tool, which only became available about 18 months ago, developed to aid in selecting the most appropriate antibiotics for a
specific farm and in dealing with the Antimicrobial Resistance issue.
How it works:  At your request we arrange for a bulk milk sample to be collected from the vat by the tanker driver, and sent to the Lab.
The sample is cultured and any staph aureus or strep uberis are cultured and identified.
These are then tested against a range of common antibiotics at a range of concentrations to see what concentration of antibiotic is required to kill them. This is established and compared against concentrations achieved in the udder with those drug treatments, to see if they will be controlled or not, effectively indicating whether different treatments are likely to work, and which, more importantly, are not.
This data is then compared against other bacteria of that type from other New Zealand wide isolates, and from any previous Antibiograms done on that farm, allowing us to track resistance development  (or not) over time, both on your farm, and nationally.
If you would like an Antibiogram done for your herd, (we strongly recommend you do) please contact the clinic to arrange sample collection. This would be very useful information to have available before we do the annual round of milk quality  consults.
Facial Eczema
So far the summer has been very hot and humid, this could result in an increase in the incidence of Facial Eczema we see this season.
What is Facial Eczema?
The fungus Pithomyces Chartarum grows in dead litter at the base of pasture. When grass temperatures are over 12 degrees C and humidity is high spores are produced (often Jan- May). The spores contain a toxin (sporidesim), which when ingested by cattle (or other pasture eating species, except horses) damages their liver and bile ducts. The liver is important for getting rid of waste products. When damaged, a breakdown product of chlorophyll (from green grass) builds up in the blood stream and results in the cow being highly sensitive to sunlight causing severe skin inflammation and damage.
Clinical signs you may see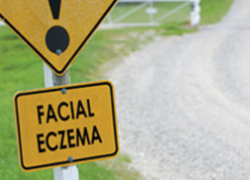 Lowered milk production (as little as 24 hours after ingesting the spores).
Agitated, restless cows, licking their udders and seeking shade.
Unpigmented skin that is exposed will thicken, become red and then peel.
Treatment
There is no cure for Facial Eczema once signs are seen. Keeping cows out of the sun and providing them with pain relief and water gives palliative treatment only. ALSO for every clinical case there will be 10 subclinical cases, where the liver has been damaged and milk production can be reduced by up to 50%. If the liver is too badly damaged it will not recover, the animal may show signs of chronic wasting or even die. This can happen at a later date, for example when the cow is under stress around calving.
Blood testing can determine if there is liver damage.
Prevention Is The Key!
Measuring spore counts
The number of fungal spores on pasture can be measured. Assure Quality publish regional spore counts online weekly:
Monitor regional spore counts and when they trend up to 20,000 spores/g start monitoring your own paddocks.

Pasture: Select 4 paddocks which are representative of your farm and sample the same paddocks once per week. When your spore counts on these paddocks trend up to 30,000 spores/g start full dose zinc dosing. (Sampling involves walking diagonally across the paddock and stopping to cut pasture at the base 10 times, to obtain approximately 200g of pasture, then bring this into the vet clinic.)
Dung: Tells what the animals have actually been ingesting: Collect 1 tablespoon of dung from 10 different fresh cowpats from the yard or current paddock, into one container and drop off to the clinic for spore counting.

Zinc dosing can be stopped when farm spore counts are consistently at 10,000 spores/g or less for 3 weeks and there are cooler temperatures.
Different preventative options
Spraying your pastures with a fungicide: This is very convenient and either eliminates the need for zinc drenching or reduces it significantly. It can be costly, however, and the whole of the farm needs to be sprayed, also the paddocks need to be sprayed before they reach counts of 20,000 spores/g. Ongoing monitoring of spore counts and repeat applications are often required.
Zinc sulphate water treatment (In line dispenser or PETA): this is cheap and convenient, however, treatment with a priming dose has to start 3-4 weeks before pasture spore counts start to rise with the in line dispenser, and 1 week early with the PETA dispenser. Also the dose is affected by water intake, and it requires daily labour to fill up the dispenser with zinc, plus no alternative water source must be available. While animals will not get a full protective dose by this method, if is vastly better than doing nothing!
Zinc oxide drenching: This enables accurate dosing based on individual cow weight and can be started when spore counts on your farm trend up to 30,000 spores/g. It is cheap but very labour intensive, drenching cows daily, or a larger dose every 3 days. Dry stock can be drenched weekly.
Slow release Zinc boluses: This can be started when counts trend up to 30,000 spores/g. It enables accurate dosing of animals as long as they are weighed and dosed accordingly. Each bolus lasts about 6 weeks (Face-Guard) or 1 month (Time Capsule) so if counts are still high after 6 or 4 weeks, depending on which you use, subsequent boluses will have to be administered. It is more expensive than daily zinc dosing.
Zinc oxide in the feed: Zinc can either be added to a concentrate mix to be fed in the shed or on the feed pad.  This can be convenient and cheap but involves daily administration/mixing (if not included by the feed company) and intake will depend upon individual cow intakes and wastage.
Crisis dosing: Treating previously untreated animals during the danger period only with higher rates of zinc is less effective (about 60% vs 80-90% when used preventatively).
In addition to these preventative programmes try and avoid hard grazing during the danger periods, as this will increase spore intake and avoid topping of pastures as this will increase the buildup of soft litter.
Cow monitoring
For all but the fungicide and zinc bolus options it is recommended to blood test 10 representative animals 2-3 weeks into the program to check serum zinc levels. Also at 6 weeks to test for liver damage by measuring GGT levels.
Please contact us to discuss spore count testing and treatment options that might be best suited for your farm.