Pregnancy Testing
If you haven't already booked your pregnancy testing with the vets, now is the time to phone us!
Ageing pregnancies vs Yes/No
Knowing when your cows are going to calve can help you manage your grazing and dry off dates, enabling you to maximize your milk production.
With an ultrasound scanner we can age pregnancies from 6-13 weeks. This means if you want to know when your cows are going to calve we have to pregnancy test them early.  If you want accurate dates for all of your cows but have a mating period of longer than 6 weeks you will need to do more than one pregnancy test. For example if you have a 12 week mating period the first test is performed 12-13 weeks after the start of A.B. and the second test is performed on any cows who were not confirmed pregnancy at the first test 6 weeks after the bull has been removed from the herd. (For most people this window of opportunity will have passed this season…but bear it in mind for next year!)
Alternatively if you only want to do one pregnancy test but want the late calving cows/bull dates to be identified, then performing a pregnancy test from 6 weeks after the bull has been removed is advisable. We will be able to date the cows who are 6-12 weeks in calf and the more heavily pregnant cows will be confirmed as 12+ weeks in calf.
If the bull has been with the cows in the last 6 weeks, we cannot accurately confirm that a cow is not in calf/ empty.
We can perform "yes/no" pregnancy testing anytime from 6 weeks after mating has ended, but it does get harder and takes longer when the cows are more than 5 months in calf, so it is still advisable to do "yes/no" pregnancy testing earlier rather than later. It also means you can make earlier decisions about which cows to cull, replacement numbers required for the following season etc…
The importance of recording
Having good records of A.B. dates and any observed bull dates makes determining pregnancy age quicker and more accurate for the vet. It is advisable to have an up to date list of all the cows and the time in weeks they should be pregnant based on all A.B. dates and observed bull dates.
There are a number of steps where potential errors can be made during pregnancy testing.
These include:
* Veterinary error in performing the pregnancy test
* The ear tag being read incorrectly
* The recorder writing the result or ear tag down wrong
* The data getting transferred to the computer incorrectly.
To minimize the risk of these errors please ensure you go through your herd prior to your pregnancy testing date, replacing any lost ear tags, cleaning dirty ones and correcting any "double ups" in ear tag numbers. There also needs to be one "recorder" per vet to avoid confusion when calling out results and ear tag numbers, and thus if two vets are coming out  please print out at least 2 copies of your mating records.
If you are a split calving herd maintaining good records is especially important. It is difficult for the vets to determine the  difference between an early spring calving cow and a late autumn calving cow using the ultrasound scanner, because as mentioned before you can only date pregnancies easily up to 3 months.
Facial Eczema
The sun has been shining recently and the temperature has been rising…which means it's time to start monitoring spore counts and thinking about preventative treatments for facial eczema.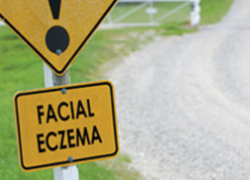 Assure Quality has the latest spore counts for the region – you can access these on their website: https://www.asurequality.com/our-industries/livestock/disease-management/facial-eczema-monitoring/
When pasture spore counts in the region are trending up to 20,000 spores/gram and weather conditions are looking favourable (hot and humid) it is advisable to start weekly monitoring of your own farm's spore counts and implement facial  eczema prevention programs.
These can include avoiding hard grazing of paddocks and avoiding topping pastures as well has oral zinc administration. You can buy your zinc boluses from the clinic, these last 4-6 weeks (depending on the brand) and are often easier than daily   dosing with zinc oxide. For more detailed information on facial eczema, how to perform spore testing and the different preventative options click here.