Mastitis cultures
Culturing milk samples can be useful in both clinical and subclinical mastitis cases.
On an individual cow level performing a culture on milk from a cow with clinical mastitis can help you determine which mastitis tubes to use. Northland Veterinary Group now have an in-house milk culture machine. We can give you results on what bug is causing the mastitis and which antibiotics are sensitive it is sensitive to within 24 hours of receiving a sterile milk sample.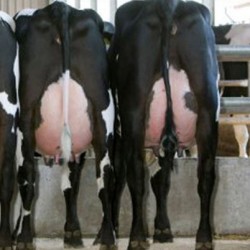 On an individual level performing cultures on cows with repeat high cell counts (subclinical mastitis) can help determine whether you keep them in the herd or cull them.
On a herd level performing milk cultures on clinical and subclinical mastitis cases helps you build up a picture of what the main mastitis causing bacteria are on your farm. For example: knowing whether you have an environmental or  contagious mastitis problem can focus your attention on different control measures. It can also be helpful for us to visit during milking to help identify areas that may be contributing to the spread of mastitis organisms or the risk of cows becoming infected.
How to take a sterile milk sample
It is really important to take a "sterile" milk sample. If there is contamination from the teat or your hands (this may not be  visible) then we often get a "mixed growth of bacteria" on culture and learn nothing about the actual bug causing the infection.
https://www.msd-animal-health.co.nz/binaries/DCT-105-2009_Milk_Samplg_tcm51-36795.pdf
Accuracy Of Aging Pregnancy Tests
Richard Laven from Massey University looked at the aging stats from 10 experienced veterinarians and 83,000 cows, and  other papers done on the subject.
There is limited evidence on how effective aging is.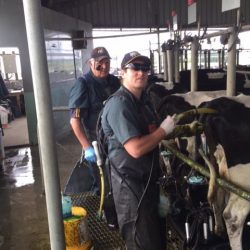 In the 83,000 cows over 90% calved within 10 days of their predicted date with some more just outside that. This was reassuring but there were some important caveats around this.
Significant variances occurred around the timing of AI relative to the end of the AI period, cow age and region.
More AI dates resulted in more variation from some papers he sourced. The lack of an AI date meant there was a greater chance to be inaccurate.
Increased foetal age (greater than 15 weeks) reduced accuracy of aging. Older foetuses do not increase in size at a standard rate.
The highest accuracy was when foetuses were at 12-13 weeks.
Accuracy of aging is very important for some farmers in all cows, and for some farmers just to identify late cows.
To optimise the system we recommend –
For every vet scanning, have a tag reader and a separate recorder at a desk who can call out how many weeks since the last AI date. The vet can then confirm or challenge that last AI date. MINDA allows you to print off a report of how many weeks since the last mating. This also maximises the speed of the process.
If early dates are important then scan about 12-13 weeks after the start of mating.
If later dates are important then scan 6-7 weeks after the bull is removed.
Obviously there are some challenges for differing farming systems such as autumn calving. Scanning is often used to allocate to herds with the           opportunity to scan cows more than once as cows at the spring mating may only have been away from the bull for 5 weeks, and some spring cows calving early may have caught the end of the autumn mating!
Often we scan some spring herds early in January and scan any not confirmed pregnant then again in early March. This can help with getting rid of early cull cows and also means that there is no putting our hand in the empties.
Practically, some farmers only want to know their empties. So we scan 6-7 weeks after the bull is out.
Confirming empties is important at some tests and less at others. Some uterine images on a scanner clearly show an empty uterus but others will need checking by hand. Good communication between farmer and veterinarian will ensure that you get the best value from scanning.
It is also important that we get in, do the job, and get out with a minimum of disruption to the routine.
Don't Forget The Dogs
If you have dogs out working stock in this heat, they too may suffer heat stress. We have certainly had some very hot days recently.
Being a lot closer to the ground than we are, the heat and humidity are much worse for them than us.
Beware also of leaving dogs on the back of or in utes.
Should your dog collapse with heat stress, get  him/her into the nearest trough, or hose them down with cold water to quickly reduce body temperature. Contact the vet immediately.