DISBUDDING REGULATION CHANGE
From 1st October 2019 it will be illegal to disbud or dehorn any animal without the use of local anaesthetic. (Animal Welfare Act 1999 Regulation 57 "Disbudding of Cattle Beasts" and Regulation 58 "Dehorning Cattle Beasts").
Failure to do so may result in fines from $3,000 for an individual to $25,000 for a body corporate.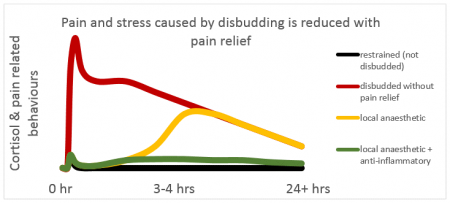 A graph from Dairy NZ demonstrating how local anaesthetic especially when used with an anti-inflammatory (like metacam) reduces pain and stress caused by disbudding.
What are your options?
1. Get Northland Veterinary Group to disbud your calves.
2. Get trained up by NVG to be able to use local anaesthetic and disbud your own calves.
3. Employ a contractor to disbud your calves.
NVG disbudding your calves:
We sedate your calves (as well as using local anaesthetic) so they all lie down and go to sleep for the whole procedure, this means: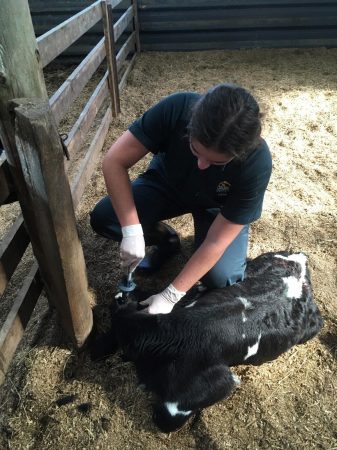 The process is efficient.
No calf crates/crushes are required.
Sedation has been proven to significantly improve pain relief and daily weight gains after disbudding.
Whilst the calves are lying down it makes it very convenient for you to go around and ear tag or do ear notching or castration, after we have disbudded.
We check for extra teats and remove them at the time.
We vaccinate them with their first 7 in 1 dose at the time.
Key things to remember:
Calves must be removed from all feed (grass, milk, meal, hay) at least 3 hours prior to our scheduled visit.
Calves must be out of the rain before and for 24-48 hours after disbudding (preferably under cover, or schedule for a good weather window).
Calves should be disbudded between 2 and 6 weeks.
Pens should be clean.
Calves should be healthy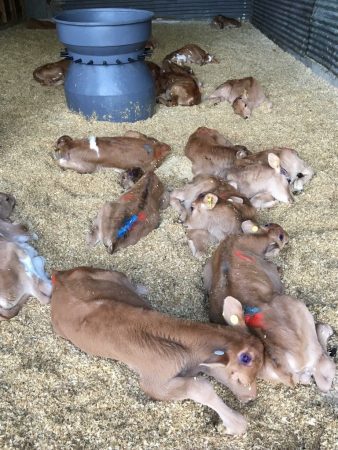 Disbudding your own calves:
You will be required to attend a training session at the vet clinic where we discuss the theory and also have a farm visit where we demonstrate how to administer local anaesthetic and assess your ability to do so on at least 5 calves. This is a requirement under the ACVM act, before we can issue you with local anaesthetic.
You will be required to keep good records of how much local anaesthetic you use each time you perform disbudding.
Every year your competence will be assessed before your local anaesthetic script is renewed.
You will need the following equipment: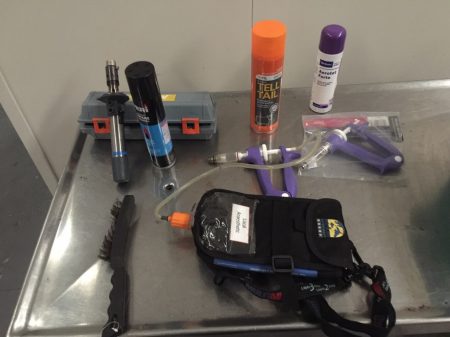 Some form of calf restraint, we strongly advice the purchase of a calf crate to maximise ease of handling and minimise stress to the calves.
Calf disbudders: there are a number of different models on the market, from hand held butane disbudders, electric disbudders and LPG disbudders.
Wire brush for keeping your disbudders clean.
Clippers: to remove the hair from around the bud (this significantly reduces the smoke produced from burning the bud off and the time it takes).
Antiseptic spray.
Tail/marker paint.
Vaccinator gun and needles for administration of the local anaesthetic.
Medication to provide longer term pain relief: metacam or tri-solfen.
Disinfectant to clean your boots and equipment between calf groups.
7 in 1 or 5 in 1 vaccine
Appropriate PPE that is non-flammable +/- masks/respirators.
Sedating calves for disbudding is gold standard for welfare, but some of you will prefer to do your own disbudding in crates to keep the cost down and enable you to do them in small batches.
What about caustic paste?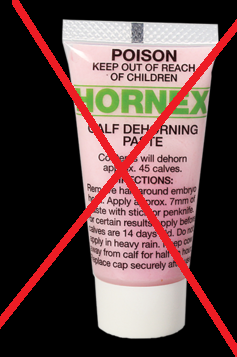 There is no local anaesthetic which lasts long enough to provide pain relief when using caustic paste, thus this will no longer be allowed to be used after 1st October 2019.
What about dehorning older calves?
Dehorning results in removing a section of skull and exposing the sinuses. It is therefore considerably more painful than disbudding and has a significantly higher risks of bleeding and infection. NZVA guidelines advise that wherever possible calves must be disbudded and not dehorned. It does appreciate that in extensive beef systems this can be harder to achieve than in the dairy sector.
In such situations the following should be considered:
Use beef sires with polled genetics if possible.
Calves should be disbudded (2-6 weeks) in preference to dehorning.
If calves are unable to be disbudded, dehorning should be undertaken as early as possible (less than 6 months).
If you are not employing NVG to do your dehorning then you will need to perform the training for authorisation of local anaesthetic, as you would for disbudding.
What do I do next?
Decide what option you are going to use. If you are going to get NVG to do your disbudding and don't normally use us, please let us know. If you want to get your own authorisation for local anaesthetic to disbud your calves then please ring the clinic and book into a theory training session at the clinic, this will be followed by an on farm assessment when you have your first group of calves on the ground. You will also need to ensure you have all the equipment you need before you start calving, please contact the vets if you would like to order disbudding irons or clippers through us, or would like advice on calf crates.
Take home message:
We should be disbudding not dehorning.
No more caustic paste.
All disbudding/dehorning legally requires effectively placed local anaesthetic to be used after 1st October 2019.
Decide how you are going to operate this year and contact us so we can train you up or perform your disbudding for you.
TAKE ACTION NOW!!!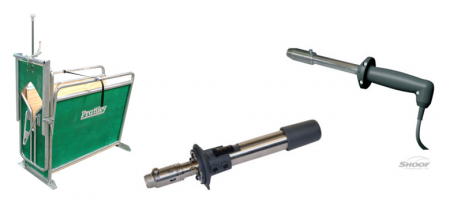 AF R I C AN SWINE F EVE R
We have been told by the MPI to keep a close eye out for signs of African Swine Fever in Pigs.
This is a highly contagious viral disease that pigs can catch from eating uncooked infected food, or from contaminated equipment, clothing or contact with infected pigs.
It has not been detected in New Zealand yet, but could enter through food importation.
If you have pigs and you feed them food scraps we recommend you heat the food for 1hour at 100 deg C before feeding the pigs.
This is a requirement under the 2005 Biosecurity Regulations.
Please see the MPI factsheet for more details about how to identify African Swine Fever.