Seasonal Reminders
Most of you have done your lepto vaccinating by now. If you haven't, please contact us to organize it as soon as  possible.
Our farm vets have been very busy with pregnancy testing over these past few weeks. One employee described it as 'bumper to bumper' bookings all day, every day. If you are looking for your herd to be 'aged' you are almost too late, so this should be done as soon as possible.
Its time to start thinking about drying off you're herd and getting your milk quality consults done. At these consults we look over your latest herd test results with you and prescribe the best dry cow treatment.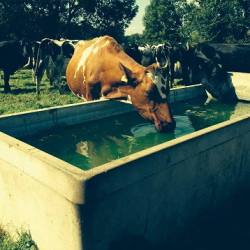 If you are sending culls to the works, get copper liver levels checked, especially if they have been fed less palm kernel in the past year.
Check young stock for trace elements. We are seeing more copper deficiency lately.
If you are planning to give copper by injection, you must check the facial eczema status first. If there is already damage from facial eczema, and you give copper, it can cause serious damage. When doing blood copper levels at this time of year we always check for FE damage.
Keep your eye on facial eczema spore counts, especially if you know your farm is prone to FE. We can do faecal spore counts in clinic for you.
If planning to drench young stock, wait until 1 week after rain to get maximum benefit from the drench/pour on.
Pregnancy Testing Empty Rates
Our empty rates in 2019 have improved on last year. We are about  75% through all the pregnancy testing.
2019
Average -10.38%
Lowest empty rate -4%
Highest empty rate -21.6%
2018
Average – 12.42%
Lowest empty rate – 0%
Highest empty rate -32.5%
Does It Do What It Says On The Tin?
Many people choose a brand over a generic product because they expect to get higher value with a better quality product, consistent  robust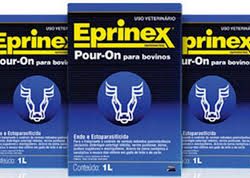 testing, technical expertise, a longer warranty, the list goes on.
But can a difference exist between animal health products?
Some people assume that if a product contains a certain drug at the same concentration as another product then they must surely be equal. Unfortunately, this has been shown in numerous scientific papers over the years not to be the case.
The manufacturing process, the quality of the active ingredient and excipients (an inert substance added to a product to give the desired consistency) and their long standing stability, among other factors involved in the production of generic formulations, may substantially affect the drugs absorption which in turn could affect drug effectiveness. In fact, factors    related to the quality of the active ingredient have been associated with therapeutic failure of generic rafoxanide formulations against Haemonchus contortus in sheep (Van Wyk et al., 1997). Furthermore, products containing subtherapeutic amounts of the active ingredient, and/or formulation quality related absorption failures may increase the risk of selection and spread of drug resistant bugs (Newton et al., 2010).
A paper recently published in the New Zealand Veterinary Journal (Oritz, et al. 2014) found that only one out of four generic triclabendazole containing products could be considered as  equivalent to the pioneering product that they were supposedly emulating.
In another paper, three generic albendazole containing products were tested against the pioneering product (Suarez et al., 2011). All three  generic products showed lower drug concentrations in the blood stream compared to the reference (RF) pioneering  product. This measure of blood concentration is known to correlate to the level of drug concentration achieved in the parasite. The authors in this paper concluded that the differences were related to different drug formulations rather than the active ingredient. The ability of the drug to dissolve in the acidic stomach is a critical factor limiting the absorption of the active ingredient. Therefore different issues related to the quality of the manufacturing procedures (micronized, particle size, surface, crystal structure of the active substance, type of excipients etc.) applied to make the final formulation may drastically affect the amount of active drug available to be absorbed in the gut. The authors went on to conclude that some drastic pharmacokinetic differences were observed' between the generic formulations and the pioneering product.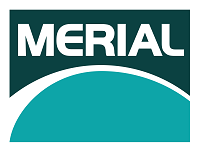 Although generic drenches may appear to be able to save you a few bucks, the most expensive drench you'll buy is one that doesn't work.
Thanks to Merial for the use of this article.
Should She Stay or Should She Go?
Calving pattern has one of the biggest influences on herd fertility; culling is a chance for you to influence next season's calving to maximize your herd's days in milk and reproductive performance.
Use your expected calvings report
But make sure it's accurate. Without early-aged pregnancy testing the expected calvings report will only be based on last  recorded matings which can make winter management decisions risky. Check when the best time to pregnancy test is with the clinic to maximise report accuracy (usually between 6-12 weeks post mating).
ID passengers and problems
High cell count and low performing cows, do you need them? Efficient, problem-free cows are essential in achieving farm  profitability
Use PW and LW
If you've herd tested through the season then your PW and LW will be accurate in helping you identify your profitable girls. It's not as simple as milk solids alone; milk components and liveweight need to be accounted for too.
Cull late calvers 
Late calving cows have fewer days in milk, fewer AB replacements and generally poorer fertility in the following mating. They'd need to be a well above average cow to make up for it!  Do you want or need to keep all of them?
Meet young stock targets
Managing calving patterns starts at birth. Animals that hit liveweight targets are more likely to calve down early, produce more milk, and are more likely to remain early calving.
Monitor condition 
Meeting body condition score (BCS) targets at calving drives good reproduction. Cows need feed and time to meet these targets. Resist the temptation to milk them on and make sure they are dried off on good BCS and  expected calving dates so they can meet the target.
Use the opportunity culling  provides to influence your calving pattern next spring. Call the clinic and we'll help you get the most from your reports with early-aged pregnancy testing. If you're wanting to get on board with young stock monitoring we can help you monitor growth rates and assess the best and most cost effective options for your herd.
Thanks to LIC for the use of this article.
Body Condition Dry Off Targets
With herds (hopefully) drying off in April or May, NOW is the time to assess condition score and ensure your herd BCS is on target for optimal production and reproduction next season. In conjunction with your feed budgets, this is critical information required to plan your dry-off dates so body condition score targets are met particularly if the current dry spell continues.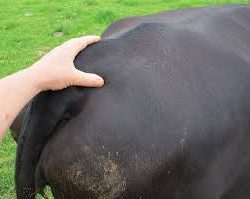 Body condition score (BCS) at calving is a vital influencer of milk production and reproductive performance in dairy cattle.  A cow that calves at BCS 4, on average will produce 15 kgs of milk solids less and cycle on average 8-10 days later than a cow that calves at BCS 5. The lost days in milk from cycling later results in a   further loss of 15-20 kgs of milk production the following season.
The optimal BCS at calving should be 4.5-5.5/10 with all heifers and 1st calvers above 5/10 if possible.
Due to the increased demands of the foetus and udder development during the late dry period it is difficult to put weight on cows at this time. Further, cows put on body weight up to 20% more efficiently during lactation compared with the dry period providing they are fully fed. These two facts make it a preferable option to increase BCS now and maintain it as close to the optimal calving BCS as possible.
This autumn, whether still lactating or already dried off, give your cows every chance of reaching important BCS targets by using EPRINEX (still the gold standard in worm control in adult cattle). Whether it is a selective treatment of lighter condition cows, or whole herd treatment to take full advantage of the demonstrated production gains, you will know that you have made a wise decision to prepare your herd for next season.