Seasonal Reminders
Lepto vaccination
Lepto vaccination for calves, heifers and herds are due now. While we do our best to chase everyone up on this, we cannot always make contact. If your stock are due for vaccination, please contact the clinic. If we are coming out to do another job, ask the staff to book your lepto vaccinations to do while we are there.
All cattle in contact with your herd should be vaccinated – steers, bulls and beef breeding stock. Calves can be vaccinated as young as 4 weeks old and preferably before 12 weeks (as this almost entirely eliminates their risk of shedding the lepto strains we can vaccinate against). A booster is required 4-6 weeks later. All calves must receive a catch up shot when the herd are vaccinated so that they fall into line with the annual booster. Any calves who received the second vaccine dose before 12 weeks of age should have a 6 month booster shot: for spring calving herds this will generally coincide with the "catch up shot". Don't forget your maiden heifers either, these must be vaccinated at the same time as your herd.
Drying Off- scroll down for more about Body Condition Targets
Some cows will be getting dried off in dribs & drabs over the next couple of months. Often farmers forget to "dry cow" treat some of these that SHOULD be treated. Now is an ideal time to make some time to sit down with one of our Vets to discuss the best approach for drying off your herd.
Cull cows and liver testing See more about Cull cows further down. If you are sending culls to the works, get copper levels checked, (Works Form attached) especially if they have been fed less palm kernel in the past year. If you are unsure if you need to get the testing done, feel free to discuss this with one of our farm Vets.
Drenching
If planning to drench young stock, wait until 1 week after rain to get maximum benefit from the drench/pour on. If Fluke if a concern drenching at dry off using Combat Fluke care is recommended Drenching your herd with Eprinex at the time of calving will maximise the benefits of the drench..
Facial Eczema (read on for more about Facial eczema).
Keep an eye on facial eczema spore counts, esp. if you know your farm is prone to FE. We can do faecal or grass spore counts in the clinic for you.
Body Condition Dry Off Targets
Cow condition is one of the big drivers of reproductive performance and production. Body condition score at calving, the rate and degree of BCS loss post calving are a critical part of that.
Achieving – or at least getting closer to BCS targets is one of the big challenges – a little easier this year than in dry seasons.
With herds (hopefully) drying off in April or May, now is the time to assess condition score and ensure your herd BCS is on target for optimal production and reproduction next season. In conjunction with your feed budgets, this is critical information required to plan your dry-off dates so body condition score targets are met.
Body condition score (BCS) at calving is a vital influencer of milk production and reproductive performance in dairy cattle. A cow that calves at BCS 4, on average will produce 15 kgs of milk solids less and cycle on average 8-10 days later than a cow that calves at BCS 5. The lost days in milk from cycling later results in a further loss of 15-20 kgs of milk production the following
season.
The optimal BCS at calving should be 4.5-5.5/10 with all heifers and 1st calvers above 5/10 if possible.
Due to the increased demands of the foetus and udder development during the late dry period it is difficult to put weight on cows at this time. Further, cows put on body weight up to 20% more efficiently during lactation compared with the dry period. These two facts make it a preferable option to increase BCS now and maintain it as close to the optimal calving BCS as possible.
This autumn, whether still lactating or already dried off, give your cows every chance of reaching important BCS targets by using Eprinex (still the gold standard in worm control in adult cattle). Whether it is a selective treatment of lighter condition cows, or whole herd treatment to take full advantage of the demonstrated production gains, you will know that you have made a wise decision to prepare your herd for next season.
Below is a table (from DairyNZ ) showing how much time is usually needed to get condition back on cows.
Score your herd in the next week, or get one of our farm vets to do it for you.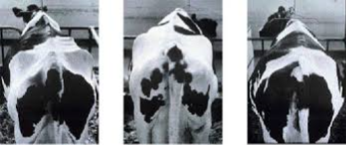 Should She Stay or Should She Go?
Calving pattern has one of the biggest influences on herd fertility; culling is a chance
for you to influence next season's calving to maximize your herd's days in milk and
reproductive performance.
Use your expected calvings report
But make sure it's accurate. Without early-aged pregnancy testing the expected calvings report will only be based on last recorded matings which can make winter management decisions risky. Check when the best time to pregnancy test is with the clinic to maximise report accuracy (usually between 6-12 weeks post mating).
ID passengers and problems
High cell count and low performing cows, do you need them? Efficient, problem-free
cows are essential in achieving farm profitability
Use PW and LW
If you've herd tested through the season then your PW and LW will be accurate in
helping you identify your profitable girls. It's not as simple as milk solids alone; milk
components and liveweight need to be accounted for too.
Cull late calvers
Late calving cows have fewer days in milk, fewer AB replacements and generally poorer fertility in the following mating. They'd need to be a well above average cow to make up for it! Do you want or need to keep all of them?
Meet young stock targets
Managing calving patterns starts at birth. Animals that hit liveweight targets are more likely to calve down early, produce more milk, and are more likely to remain early calving.
Monitor condition
As discussed in previous article meeting body condition score (BCS) targets at calving drives good reproduction. Cows need feed and time to meet these targets. Resist the temptation to milk them on and make sure they are dried off on good BCS and expected calving dates so they can meet the target.
Use the opportunity culling provides to influence your calving pattern next spring. Call the clinic and we'll help you get the most from your reports with early-aged pregnancy testing. If you're wanting to get on board with young stock monitoring we can help you monitor growth rates and assess the best and most cost effective options for your herd.
Thanks to LIC for the use of this article.
Trace Elements
With the better season we have yet to see many cull cow copper levels. Levels in the autumn
are likely to halve by calving, if unsupplemented, so now is the time to see where your herd sits.
The most accurate representation of a herd's liver copper stores are by taking live liver samples, which is a simple relatively quick procedure done by your vet. However If you are sending culls to the works you can check copper levels with works liver tests. (Works Form attached) Check young stock for trace elements. We are seeing more copper deficiency lately.
Copper is essential for good growth.
Bloods can be wrong in up to 35% of cases, but with potential Facial Eczema issues at this time
of year , it is essential to do bloods to check for liver damage before supplementing with copper.
Serious damage can occur if you give copper when there is already damage from FE.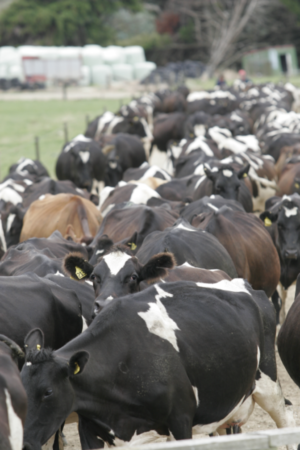 Facial Eczema
Spore counts are generally below the 30,000 mark but are creeping up and some
areas we are seeing high levels of spore counts. We are still doing spore counts in
clinic so if you are worried about a certain field/paddock then you can drop grass samples into the clinic to get tested.
If you are worried that there already might be facial eczema in your herd we have preventive
treatments such as Face-Guard in the clinic.
A good resource is https://www.asurequality.com/assets/Facial-Eczema-2021/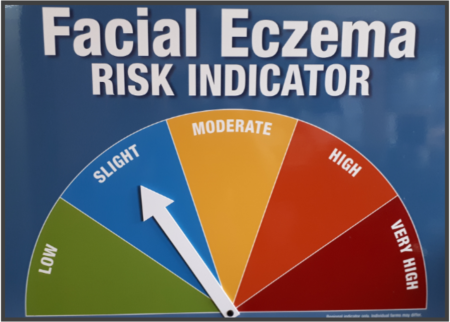 Fonterra's Co-operative Difference Payment
Fonterra farmers producing sustainable, high quality milk will be eligible for a new payment, as Fonterra announces important changes to the way it pays farmers for their milk.
From 1 June 2021, Fonterra is introducing a Co-operative Difference Payment of up to 10
cents per kilogram of milk solids (kgMS) if the farm meets the Co-op's on-farm sustainability and value targets. It's part of the Co-op's strategy to add value to New Zealand milk
and responds to increasing demand from customers here and around the world for sustainably-produced dairy. The payment will be funded out of the Farmgate Milk Price.
"The total Farmgate Milk Price will remain the same across the Co-operative, but the
amount that each individual farm is paid will vary depending on their contribution under
The Co-operative Difference, in addition to the other variables, like fat and protein, which
affect the amount that's paid," says Fonterra CEO Miles Hurrell.
For more information go onto Fonterra's website https://www.fonterra.com/nz/en/ourstories/media/fonterra-to-pay-farmers-more.html
Dry Cow Therapy
Aims to:
 Prevent new infections in the dry period.
 Cure existing infections.
 Reduce cell counts
 Reduce early season mastitis (not all products)
Depending on your situation, and dry off date, your Dry Cow programme will differ. We
discuss this at the RVM / Dry Cow Consults,
If you have cows being dried off early – ie having a very long dry period – there may
be advantage in using a Teat Sealant, with or without dry cow therapy, to prevent new
infections later in the dry period.
This is a good time for the RVM/Milk Quality consult.
Don't forget to bring your mastitis info with you. (Cell count breakdown, herd test summary 3 report and number of mastitis cases by month).