Retirement of David Cairns
As most of you will be well aware this moment has been expected for a little while now. Dave has decided it is finally time to hang up his stethoscope, amazingly Dave has been in practice for over 46 years, graduating from Massey University in 1970, with a Bachelor of Veterinary Science.
During his time in practice Dave's equine skills have become highly regarded nationally.
Dave has dropped to three days a week during the month of April, to ease the transition of the bulk of equine work over to Sarah Saint Merat; his last work day will be the 21st April.
Dave will be greatly missed both by clients and colleagues alike, we wish him all the best enjoying his well deserved retirement.
Dave isn't disappearing but he wishes to spend more time with his wife Kim, and sons Oliver & Logan, not to mention terrorizing the snapper on the coast!
He has been kind enough to still be available to us for pre-purchase examinations, these will still be available through us.
Species Appropriate Fencing
What is the biggest preventable animal welfare issue that as a Veterinarian I have to deal with?
No one wants to read a whole lot of facts that I write about. That's what Veterinarians learn at Vet school and then we come out and apply all this       information in the real world.
Drug doses, surgical techniques, nutritional expertise, disease prevention and treatment all make up part of the picture we learn.
There is one thing however that I would like all animal owners to ponder is that fencing should be species appropriate. Prevention is better than any cure I can provide!
I have recently had to deal with many, many horse leg wounds from high tensile wire. High tensile wire around horses is like putting a rifle in the hands of a 10 year old. OK while supervised, but what about when you are not there? The consequences are gut wrenching for owners and Veterinarians, and must be very painful.
You may buy a horse, and pay for all the hardware like saddles, horse floats, have them shod, and then find they are out of action for 6 months with wire injuries plus a thousand dollars in veterinary bills for sedatives, bandages, etc. It would have been much cheaper and reassuring to invest in some good horse fencing such as magnum.co.nz. I have no relationship with the company but have used their products and they are easy to erect.
Another species and fencing issue is that electric fences are designed to work with electricity in them. That is what makes them effective. If they do not have electricity in them then calves and bulls etc will all walk through the fence and get tangled up. A recent case highlighted this to me where a calf had almost amputated its foot after tangling in an electric fence.
So get out there and check that your fences are species appropriate, and if doing alterations then consider your best option.
Ross Woods
Skin Problems – Part Two
Rain Scald
Rain scald, or rain rot, is also called streptothricosis and is caused by the fungal organism Dermatophilus congolensi.
The organism is dependent on a carrier horse who has the organism on its skin, and who may or may not be affected by it. Contrary to what a lot of people think, the organism has not been demonstrated to be present in dirt or soil.
There is some natural immunity, but some horses seem to be more susceptible to it, and that's why some horses get it year after year
In order for a horse to get the disease, some conditions have to exist.
¨ an infected carrier animal, or
¨ an item such as a brush, blanket, or saddle that has the organism in the form of a spore that makes contact with the susceptible horse.
¨ some form of extreme moisture, like heavy rainfall, hence the name.
¨ horses that have heavy coats keep the moisture in contact with their skin, which helps the spores grow.
¨ the skin has to be damaged – from an insect bite, cut, or scrape. That lets the organism get down into the skin
Getting the scabs off and letting the air get to the ulcerated areas is most important.
Rain scald is somewhat a self-limiting disease. The horse will probably get over the problem as it sheds its coat. The organism prefers carbon dioxide or a lack of oxygen to grow. So, you need to get rid of the heavy hair coat and the scab that's holding the organism into the skin.
The first thing we do is use a soap – like an iodine, or chlorhexidine soap– that lathers good and work that crust off that's created by serum oozing out through the skin. With gloves on, lather the horse good and try to break the scabs off, which is painful to the horse. Getting the scabs off and letting the air get to the ulcerated areas is the most important part, and it is the most difficult because the horse resists it. Since it's painful, sometimes it takes a couple of days working a little at a time. If this occurs during the winter it is very difficult to make sure the scabs are exposed to the air while still remaining dry, often stabling is necessary. In cases where this is not possible make sure the horse is completely dry before putting its cover(s) back on. Often the cover will also need to be treated aswell to prevent re-infection.
There are complicating factors occasionally. Because this disease causes a moist, warm environment, it's a good place for a secondary bacterial infection like staph, strep, or Rhodococcus . The case can be more difficult to treat, and it might require systemic antibiotics. The Dermatophilus organism itself is very susceptible to penicillin, so your veterinarian may prescribe that for severe cases.
Rain scald or rain rot can manifest itself in several ways.
The best way to prevent spread of the disease is to use some form of disinfectant for brushes (like Vircon) and wash your hands thoroughly after working with an infected horse. Blankets shouldn't be used between horses, but if they are, they should be washed and disinfected before being used on another horse.
It's important to disinfect anything you use on an infected horse before using it on another horse: halters, saddle pads, brushes. Even if the horse has a favorite place he rubs, like a stall door or a fence, it can become a source of the organism.
Diagnosis is usually by clinical signs, and the disease can manifest itself in several ways. It can result in rather large, crusty, circular areas. It can also be in small, raised areas with small scabs (less than one-quarter of an inch). When it's like that, there will be a mass of raised hair all over the horse's back. In either case, there is a crust of serum that elevates the hair. As the disease progresses, the crust may increase to a quarter of an inch thick.
The disease is not usually associated with any discomfort or itching except when you remove the scab, which is painful. When you remove the scab, the skin underneath might be gray and healing, or pink and oozing.
Celebrating our Clients Success'
Logan Racing – Group One wins
Donna Logan and Chris Gibbs of Logan Racing, Ruakaka have had some great Group wins recently.
In February this year Valley Girl, the Mastercraftsman 3yr old filly won the Group One Herbie Dyke Stakes in the Waikato for the training partnership, and her owners.
Not to be outdone , the 4yr old Tavistock gelding, Volkstok'n'Barrell they train and have shares in, then went on to win the Haunui Farm Group One WFA Classic at Otaki later in the month.
Volkstok'n'barrell quickly following up the win up with a second group one success, winning by a nose in the Bonecrusher Stakes at Ellerslie in March. This is his third Group One win.
Congratulations to the team at   Logan Racing and the two horse's connections.
Booking an Equine Visit
When you would like to get a veterinarian out to see your horse, or would like to bring them in to see us, its easy, just give Jess Main at the Clinic on (09) 470 1060. Jess will continue to run the equine calls with Sarah Saint Merat, and it is in the pipe lines that Sarah's property will be upgraded to allow her to see horses at home, where appropriate .
Yes, sometime Jess Main won't be available to take your call, but will endeavor to call you back ASAP. In the case of an emergency, any of the customer   service team can arrange a vet visit, all our large animal vets are fully qualified and experienced to take care of your horse.   And when Jess is actually on holiday then any of the phone staff are well capable of taking care of your bookings.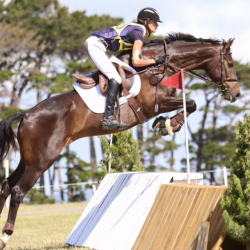 Sarah Saint Merat competing at Puhinui