Seasons Greetings
All the team at Northland Vet Group wish our clients a safe, happy and pet-safe holiday season. Have fun in the sun, but stay safe. Remember—no chocolate or ham bones for the pets!
Dogs In Car
It is not safe to leave dogs in cars, even just for a couple of minutes while you run an errand –  it is still too long.  Leave your dogs at home in summer where they can remain cool. Freeze an ice cream container of water containing a few treats to enjoy while you are out (avoid smaller blocks of ice as they can be   swallowed and lodge in the throat).  If you must take your dog in the car, always have someone stay in the car with them and have the air-conditioning running.
Walking The Dogs In Summer
Walking at the beach is a favourite summer outing.  If the sand is too hot for your feet it is too hot for your dog. The tarmac roads and footpaths can also be too hot for your dog's feet in the heat of summer.  If it is too hot for you to stand on in bare feet, or hold your hand on, then it is too hot for your dog's paws.
There are some lovely dog friendly bush walks to explore in Whangarei.
Waimahunga Track in Onerahi, parts of Mair Park and some of the A H Reed walkways to Whangarei Falls. Alternatively walk very early in the morning or late in the evening when it is cooler.
Slip, Slop, Slap
Don't forget sunscreen for yourself and for your pets!  Cats and dogs with pink or white ears and noses are at greater risk of sunburn and later skin cancers.  Call in to the clinic to discuss options for sunscreen for your pets.
Newspaper
We desperately need your old news-papers for use in clinic. Please drop them off at any of our clinics. Thank you.
Lost Dogs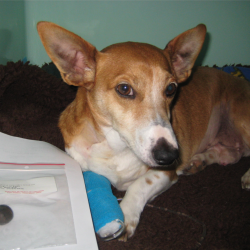 If your dog goes missing they may have been picked up by Whangarei Animal Control (the pound).  Wandering dogs are usually picked up quite quickly as the public will phone Animal Control to report a straying dog.
Phone Whangarei Animal Control and report your dog as missing.  It is highly advisable to go to the pound each day and look for your dog.  It is very difficult to give an accurate description of your dog over the phone so the safest approach is to go and check in person.
Sometimes a member of the public will pick up a wandering dog and bring it to the clinic.  If the dog is microchipped great!  We have some identification. If the dog is also registered on the NZ Animal Register we can usually contact the owner directly.
If the dog has a current Whangarei Dog Registration tag we may also be able to find the owner.
However if the dog is unidentifiable or if we are unable to contact the owner we will then phone and ask the council to collect the dog.
Create a flyer with a photo of your dog and your details to take to the SPCA and list your dog as missing with them.
List your dog as missing on the website "Pets on the Net " or on community "Facebook" pages.
The "Wagg Tagg" is a new product we have instore.  It is a dog identification tag. When your dog is found anyone can scan the tag with a smart phone and type in the URL (which is unique to your dog).  A text message is sent directly to you informing you of your dog's location.
Lost Cats
A missing cat is more challenging.  Firstly phone the SPCA and report your cat as missing.
Check under trees and bushes in your garden and under the house in case your cat is unwell or injured and hiding.
It is worthwhile talking to your neighbours, ask them to check in their garage and garden sheds in case your cat has been exploring and has got locked in.  Take a photo with you and ask them keep a look out in the garden in case your cat is found injured or unwell.
Another option is to create a flyer with a photo, description and your details to do a mail drop in your neighbourhood.  Always have a date on your flyer.
We have a notice board at the clinic where "lost pet" flyers can be shown.
Cats can also be listed on community "Facebook" pages and "Pets on the Net".
Microchipping is an excellent means of identifying your cat. The microchip can be placed during a vet visit.  We recommend that your pet's details and description are then added to the NZ Companion Animal Register.  When a stray cat is brought into the clinic the first thing we do is scan for a microchip.  If the cat is found to be microchipped and is on the NZ Companion Animal Register it is a simple matter of contacting the owner.
If your animal is on the NZ Companion Animal Register you will need to update your details through the NZ Companion Animal Register if you move house or change your phone number to keep your information current.
Extra claws
We often see extra claws  "dew claws" on the back legs of dogs.
These are easily visible on large dogs and short haired dogs.  Long haired or fluffy dogs and puppies often have them too but they are well hidden in the hair and can be missed at nail clips.
It's important that these dew claws are located and the nails are clipped regularly as they continue to grow in a loop which may catch on things or they can grow around so far they dig into the pad leading to discomfort and infection.  Feel through the hair on the inside of the back legs just above the paw to check.
Cats sometimes have extra toes too, these cats are known as polydactyl. While the majority of their claws can be maintained by scratching on trees etc. they also often have a nail hidden between the extra toe and the next toe.  This nail needs regular clipping as it may grow into the paw.
We Have A Winner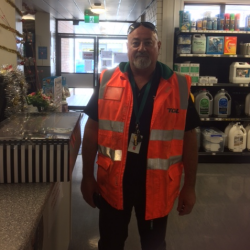 Blair Mitchell won a Barkers Hamper from Bravecto
Smart Flow
At Northland Vet Group we are moving forward with technology and reducing the amount of paper we use.
If your pet is to be admitted to our Maunu Road Clinic for a procedure the admission will now take place on an iPad!  In the Prep Room we have a large screen with patient details and a photo to identify each patient.
This electronic process helps us to manage the workflow in this area.
Sponsorship
At Northland Vet Group we like to sponsor some community events.
In the past few months we have given sponsorship packages to:
-Maungakaramea Primary School
-Hurupaki School Fishing Competition
-Otaika Valley School Golf Tournament
-Whakapara Pony Club
-Teal Bay K9 Karnival