PET OF THE MONTH – OLLIE
– By Alan Wilkinson-Mackie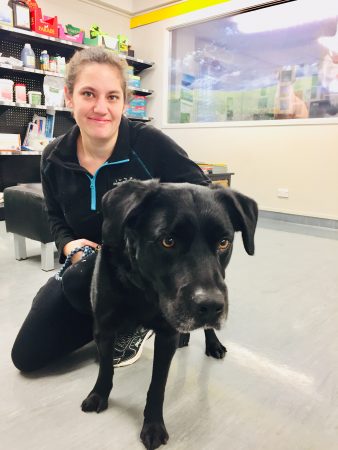 Ollie is a five year old labrador who had a nasty road traffic accident in April. He suffered 2 major fractures in his pelvis.  He was in extreme pain, unable to move,  and could not even go to the toilet when first hospitalised.  We had to sedate him daily to express his bladder.
Ollie was on several types of pain medication including an opioid and metacam injection.  Ollie was comfortable on these medications – so we kept him in the hospital for a week until he was able to urinate on his own.
Monica kept Ollie in a cage for a month at home.  This required Monica and her partner carrying him out to the toilet several times a day.   After this time we repeated Ollie's xrays and decided that he would need surgery on his left hip. This was because it was unstable and causing pain when he walked. It also would not extend normally due to the fracture.  The surgery is call a femoral head and neck excision ( or FHO ) for short.  This stops the hip being painful but does mean the hip is a bit wobbly for a while.
The other major fracture had begun to heal with the cage rest.
Ollie has just had his sutures removed after this operation.  Now we need Ollie to do more exercise to build up the muscles in his back legs.  This will help stabilise the hip joint further and keep the false joint from seizing up. Swimming is ideal for this as it builds up muscle and keeps the legs moving.
So, Ollie is looking forward to a beach day in the near future.
PET INSURANCE… SHOULD I?
– By Jane Nichols
During the busy holiday weekend between Christmas and New Year we saw three hit by car emergencies. Nothing too unusual there, as we do receive a considerable number of afterhours calls on the weekends. What was sad was that two out of three of those injured pets were euthanased due to lack of funds to treat the fractures.
It was distressing to think that 'if only' these owners had thought about insurance, then the outcomes would have been different . So, we have produced a brief roundup of the advantages and disadvantages of pet insurance for you.
There are four companies offering pet health insurance in New Zealand: Southern Cross, Pet'n'Sur, Pet Plan & AA. There are many choices of policy and levels of cover.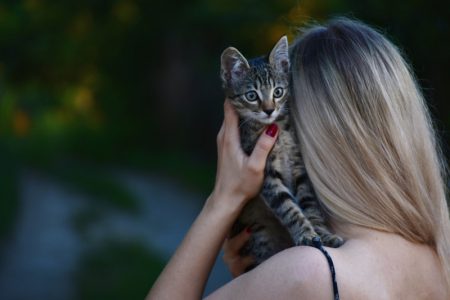 Southern Cross is NZVA (New Zealand Veterinary Association) endorsed and supports the SPCA .They do Petcare accident and illness cover at 4 levels: maximum claims up to $2,500, $5,000, $10,000 and $15,000. All accidents and illness are covered as well as inherited conditions. An annual contribution towards vaccinations ($25) is given to policy holders. Dental care is an optional extra, with a $300 payout ceiling. They offer the option of a 20% co-payment towards the cost of vet care, as well as full cover options.  Pets have to be 6 weeks to 6 years of age when a Petcare policy is taken out, so sorry seniors…
Southern Cross also offer AcciPet cover plans, which are less comprehensive than their Petcare accident and illness cover but offer cover for accidents like bites and hit by car which can be covered from as little as $10 / month for a cat.
Illness and inherited conditions are not covered. There is no age limit to start an AcciPet plan.
General exclusions are any pre-existing conditions (Yes, even the healthy right hind cruciate ligament is no longer covered if the left one has been injured at the time of insurance), behavioural conditions, caesarians, cosmetic surgery and all alternative treatments.
Southern Cross only cover cats and dogs. The first 6 weeks cover is free for puppies and kittens aged between 6 and 20 weeks of age when you apply.
Pet 'n Sur state they are NZ's largest pet insurer (although with the NZVA endorsement of Southern Cross this may be an old claim.) They offer Platinum, Gold, Silver and Surgical policies and the oldest entry levels of insurance. So cats and dogs can be insured on the majority of their plans before 11yrs and 11 months old, unless they are  a select breed (Bulldogs, Rottweilers etc.).
With their Co-Pay system, policy holders pay a percentage of their claim: 20% on the Silver plan and a fixed $150 on the Rhodium plan. There are benefits for annual vaccinations, de-sex, microchipping, funeral and alternative therapies.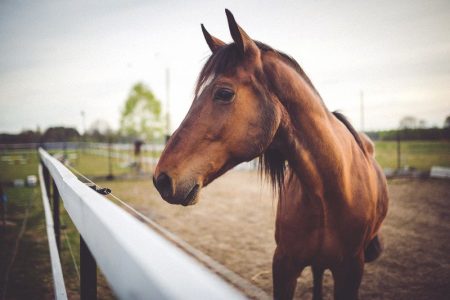 Cover is provided for hereditary conditions if the pet is older than 3 years only, specialist vet fees and accidental tooth fracture. Routine dental work costs are not covered.
Pet n Sur offer coverage for dogs, cats, rabbits and horses.
Pet Plan is the biggest and oldest pet insurance company and offers more cover on a range of services. There are 4 policies offered : For dogs, the "12 month essential" policies gives a maximum of $7,000 cover for a year, "Covered for life 1 and 2" with  $10,000 and $15,000 cover respectively and "Life ultimate " which is $20,000. Similar policies for cats apply with $9,000 and $10,000 covered for life policies and $15,000 for Life Ultimate. It does offer cover for Third Party liability and complementary or alternative treatments. Payouts are also claimable if death ensues from illness or injury and loss by theft or stray. Advertising costs in case your pet is lost are also covered and even your holiday cancellation due to a pet's illness. Boarding fees are covered and discounts given for more than 3 pets.
The excesses do become more expensive as the pet ages –and for certain breeds. So a 7yr old dog's excess is $150, but if 8yrs it is an additional 20%. This goes up to 35% at 10 years of age. Some breeds have this increase in excess from 4 years old like all bulldog breeds and Rottweilers
You do have the option to pay 25% excess when a claim is made for a 25% reduction in the policy price.
Injury is covered on receipt of the application form which is very quick.
Pet Plan offers insurance for dogs, cats and horses.
AA Pet Insurance offer three plans with varying levels of cover; Essentials, Comprehensive and Accident Only. The AA Pet Insurance Essentials plan provides limited cover and includes cover for vet expenses, funeral costs and additional optional benefit for dental care. Comprehensive plan has the most extensive range of benefits of the three plans, including cover for vet expenses, routine care, holiday cancellation costs, funeral costs and additional optional benefit for dental care.Accident Only plan provides a limited cover for accidents only. This plan only covers vet expenses and funeral costs if an accident occurs.
AA Pet Insurance cover 80% of eligible vet bills and a 20% co-payment applies per claim and the excesses will increase as the pet ages. Eligible puppies and kittens between 8 and 20 weeks can get Starter Cover for Puppies and Kittens which provides 6 weeks cover where you pay no premiums and only $100 excess per event.
AA Pet Insurance offers insurance for dogs and cats.
With all pet insurance, we would fully recommend you read the small print prior to signing up. On all the above companies' websites, there are 0800 enquiry lines as well as the opportunity for a free quote. This is useful if your pet has a pre-existing condition or a breed predisposed to certain disease conditions. We hope this helps you make an informed decision.
A NOTE ABOUT GOATS
– By Sarah Alexander
The number of goats kept as pets is on the rise in New Zealand. We all know that goat kids are incredibly cute and that goats can be very good weed-eaters. Unfortunately there is not much easily accessible information out there on the basic care of goats as pets.
Firstly, it must be noted that, while goats can be brilliant weed-eaters, they are also very susceptible to poisonings and cannot eat 'just about anything'. Please thoroughly research which plants are toxic to goats and make sure they will not have access to these. In particular Rhododendron, Camelia and Rhubarb can cause acute and sometimes irreversible toxicity. On a positive note, they will quickly take care of thistles and gorse!
Recent research into goat immune responses has shown that they do not maintain immunity against Clostridial diseases for as long as their ovine counterparts. The recommendation is that they are vaccinated every six months as adults, in addition to two or three vaccinations done six weeks apart as kids. Clostridial diseases can cause either chronic disease or sudden death in goats.
Parasite control is extremely important in goats both young and mature. Unfortunately, the drenching of goats including frequency and dose rates is not as straight forward as one might expect, due to drench resistance which is firmly established in the goat population. Also goats can be highly sensitive to the chemicals which are used in drenches and adverse effects can occur when drenching is not carefully done. We are able to do in-house testing to check for worm burdens in your goats and will be able to advise appropriate drenching. There is also an excellent guidebook online called 'Wormwise for Goats' which covers this topic in more detail.
Another thing to think about if you are considering owning a goat is whether you will want the horns or horn buds removed. As a practice we can perform disbudding on goat kids when they are very young- this is done in clinic under sedation and local anaesthetic. There are some risks involved and it is best to consult the veterinarian directly for further information. We cannot remove horns once they are truly formed unless there is a compromise to the welfare of the animal necessitating the horn removal, for example if the horns are ingrowing. This is something that we would approach on an individual case by case basis.
One more regular 'maintenance' job for goats is hoof trimming. Goats are very susceptible to foot rot and occasionaly their hooves grow abnormally. As a clinic we are happy to teach you how to maintain healthy goat feet and can even show you how to pare them yourelves. Of course, if you prefer, we are able to trim them ourselves on a regular basis.
So there you have it, a very basic run down of goat care. Please do keep in mind that this article is by no means a complete guide and feel free to call us with any queries.