Richard Laven from Massey University looked at the aging stats from 10 experienced veterinarians and 83,000 cows, and other papers done on the subject.
There is limited evidence on how effective aging is.
In the 83,000 cows over 90% calved within 10 days of their predicted date with some more just outside that. This was reassuring but there were some important caveats around this.
Significant variances occurred around the timing of AI relative to the end of the AI period, cow age and   region.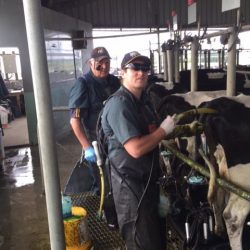 More AI dates resulted in more variation from some papers he sourced. The lack of an AI date meant there was a greater chance to be inaccurate.
Increased foetal age (greater than 15 weeks) reduced accuracy of aging. Older foetuses to do not increase in size at a standard rate.
The highest accuracy was when foetuses were at   12-13 weeks.
Lack of an AI dates also drives poorer accuracy.
Accuracy of aging is very important for some farmers in all cows and for some farmers just to identify late cows.
 To optimise the system our recommendations are
For every vet scanning have a tag reader and a separate recorder at a desk who can call out how many weeks since the last AI date. The vet can then confirm or challenge that last AI date. MINDA allows you to print off a report of how many weeks since the last mating. This also maximises the speed of the process.
If early dates are important then scan about 12-13 weeks after the start of mating.
¨If later dates are important then scan 6-7 weeks after the bull is removed.
Obviously there are some challenges for differing farming systems such as autumn calving, staff availability etc. Scanning is often used to allocate cows to herds in split calving systems. This allows the opportunity to scan cows more than once as cows at the spring mating may only have been away from the bull for 5 weeks and some spring cows calving early may have caught the end of the autumn mating!
Often we scan some spring herds early in January and scan any not confirmed pregnant then, again in early March. This can help with getting rid of early cull cows and also means that there is no putting our hand in the empties.
Practically some farmers only want to know their empties. So 6-7 weeks after the bull is out is when we scan.
Confirming empties is important at some tests and less at others. Some uterine images on a scanner clearly show an empty uterus but others will need checking by hand. Good communication between farmer and veterinarian will ensure that you get the best value of scanning.
It is also important that we get in, do the job, and get out with a minimum of disruption to the routine.
Ross Woods