Maunu
Opening Hours
Clinic: Mon, Thurs & Friday:
8.00am-5.00pm
Tuesday & Wednesday late night clinic:
8.00am-6.30pm
Saturday & Sunday clinic (Surcharges apply):
9.00am-4.00pm
After Hours Emergency Services:
Available 24/7 – by appointment afterhours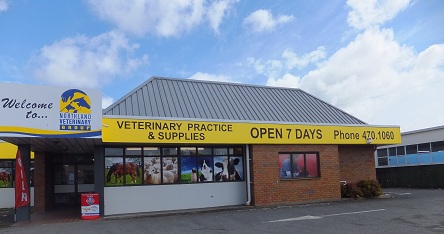 16 – 18 Maunu Road, Whangarei 0110 Phone:  (09) 470 1060 Email:  admin@northvets.co.nz
Our Maunu Rd clinic is located centrally at 16 Maunu Rd. It is a busy centre caring for companion animals, production animals and is the equine base.
Completely refurbished in 2011 ,the facilities provide modern consulting rooms, onsite diagnostic laboratory testing , radiography and ultrasound rooms, a surgical suite, and separate cat and dog wards .For your convenience, there is parking available in front of the clinic, and a large parking area behind the building.
The clinic is open 7days with qualified and experienced staff to provide a comprehensive range of services and products for pet owners , farmers and small block owners. There is a vet on call afterhours for emergencies.