Welcome to our October newsletter!
I blinked and now it's October! We've got a jam packed newsletter this month with topics relevant to this time of year.  So on that note I'll leave you to spend your reading time on the good stuff- enjoy!​
Sarah A
Calves and young stock drenching – important points:
Drench from 3 weeks after they start eating significant amounts of grass (2-3 months of age)
Avoid single active drenches in young stock due to increased resistance development
In cattle <9 months old, Cooperia species are the most problematic parasite so ensure your drench contains levamisole to target this
In cattle >9 months old the main parasite causing issues is Ostertagia so ensure you have a 'mectin containing drench
Drenching is recommended every 4-6 weeks (per farm conditions) until 15 months of age
Fecal egg counts can be performed in clinic to indicate if drenching is required.
Products recommended – Calves less than 100kg:           
     Product

Active ingredients

Information

Withhold

Corporal

Oxfendazole + levamisole

Oral drench 1ml/20kg

Effective against:

·         Roundworm

·         Lungworm

·         Tapeworm

10 days meat, 35 days milk

Turbo Initial

Eprinomectin + levamisole + diclazuril

Oral drench 1ml/10kg

Added cobalt and selenium

Effective against:

·         Roundworm

·         Lungworm

·         Coccidia

35 days meat, not to be used in bobby calves

Turbo Advance

Eprinomectin + levamisole

Oral drench 1ml/10kg

Added cobalt and selenium

Effective against:

·         Roundworm

·         Lungworm

35 days meat, 35 days milk
Products recommended – Calves greater than 100kg:
Product

Active ingredients
Information
Withhold

Turbo Pour On

Eprinomectin + levamisole

Pour on drench 1ml/20kg

Effective against:

·         Roundworm

·         Lungworm

·         Tapeworm

Safer than other products containing abamectin

42 days meat, 35 days milk

Boss

Abamectin + levamisole

Pour on drench 1ml/20kg

Effective against:

·         Roundworm

·         Lungworm

·         Lice

42 days meat, 35 days milk

Boss Injection
Ivermectin + levamisole + eprinomectin
Injectable drench 1ml/35kg

Effective against:

·         Roundworm

·         Lungworm

·         Lice

21 days meat, 35 days milk
 Article by: Samantha Eaton
LAMENESS
Lameness causes cows a lot of pain, resulting in reduced feed intake, lower milk production, poorer reproductive performance, and considerable staff time in managing and treating them.
Using the Dairy NZ Lameness cost calculator, each lame cow will cost you an average $300 – $360 all up.
Prevention:
THERE ARE FOUR MAIN CAUSES OF LAMENESS IN DAIRY COWS:
WHITE LINE DISEASE: This is caused by pushing and shoving, so mainly occurs in the dairy yard, around feed troughs, when an over-keen farm worker tries to hurry the herd up to the shed or at choke points in the race causing cows to bunch up.
INTERDIGITAL DERMATITIS: This is caused by small stones, approximately 1 cm diameter, getting caught between the claws, breaking the skin and allowing the tissue to become infected. Gravel road crossings or wrong-sized metal on the race commonly cause this.
SOLE ABSCESSES: These are caused by trauma to the sole. This commonly occurs when cows cannot see where they are placing their feet – either because they are packed too tightly and therefore cannot see where they are walking, or when damaged track surfaces are invisible in mud or water.
NUTRITIONAL: There is evidence to suggest laminitis from high carbohydrate diets may cause lesions like sole abscesses. This is not something we see much in Northland.
Race materials, slope and width, yard size and facings around feed bins can all be contributing factors along with prolonged spells of wet weather. However, races or weather alone are rarely the main problem!!
HEADS UP YOU LOSE!!!
This was the title of a lameness article David Haugh wrote in our newsletter many years ago. If cows have enough room, they do not stand with their heads up. Whenever you see heads up, the cows are under too much pressure. This is the main factor causing white line disease and sole abscesses. When you see this THAT is where a problem is occurring.
EARLY DETECTION:
Early detection is the next best thing to prevention. Locomotion scoring is a really simple, practical method of detecting lame cows early. Even if only slightly lame, ALWAYS pick the feet up to check for damage. Deal with it early and minimise the costly effects of the lameness progressing further.
LOCOMOTION SCORING:
 
The beauty of this system is that you can tell from quite a distance which cows are starting to get lame (arched back when walking), and deal to them before they become really bad.
HOW MANY LAME COWS ARE TOO MANY?
Any lame cow is a problem, but realistically there will always be some. The Fonterra Farm Animal Health Plans talk about <5% lame at any single lameness scoring event (ie the whole herd is checked) and less than 12% of the herd in any one season. If you are far off these numbers you will be unnecessarily losing a lot of money, and using a lot of valuable time dealing with them.
How do I score the herd?
Using the scoring method above sit somewhere where you can watch the herd walk past you fairly spread out. Have a comfortable seat with a clipboard, pen and paper and tally the number of cows that have a score of 2 or more. Divide that number by the herd number to get the % lame.
For those with a smart phone the Dairy NZ Healthy Hoof App is a great tool to score the herd, record lameness type, cows treated etc and produce reports.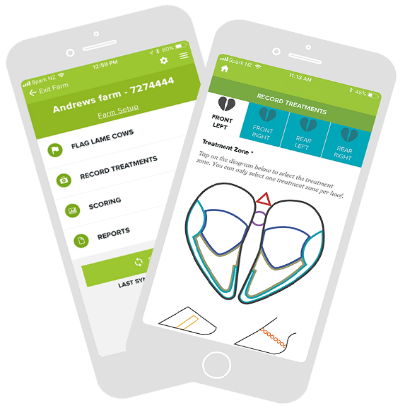 WE CAN HELP!
If you have a big lameness issue Angus has done the Healthy Hoof Training and can assess the races, yards, shed and stock movement issues for you. With this information he can give you a detailed report of the findings and resulting recommendations.
All our Farm Services vets can train you, or your staff, to treat different types of lameness.
Article By: Angus Campbell
Fit for transport requirements – Cattle
Understanding the rules around transporting cattle is vital in order to keep them safe and under a high level of welfare and to avoid fines for yourself.  Any animal that you are unsure about just give us a call and a vet can come out and certify if they are fit to travel or not and provide you with a travel certificate.
The rule is: 'Livestock must be fit enough to withstand the entire journey without suffering unnecessary or unreasonable pain or distress.'
Note: Animals that have any wounds/lesions anywhere that are discharging puss or blood will NOT be fit to travel.
Some guidance for common conditions:
***If in doubt ask for a vet certificate***
Eyes: Any masses in the eyeball or eyelids must be under a $1 size (less than 2cm) and not discharging blood or puss and must be contained to this one area.
Horns: They cannot be longer than the length of the ear and must not be discharging blood or puss. Animals must have been de-budded/ de-horned using local anesthetic. If needing animals dehorned contact us in plenty of time to allow the horn time to heal (at least 2 weeks).
Lameness: Must be a grade 2 out of 3 or less so this means a subtle lameness including the head carriage being held above the backline and having been initially treated with pain relief. Unfortunately cows that have had hip dislocations can never be transported.
Mastitis: Must be a healed udder i.e. not be inflamed or discharging, not have an injured udder or any lesion on her udder.
Pregnancy: Animals cannot be transported in late pregnancy (if she gives birth on the truck or within 24 hours after arrival you could be fined), recently after giving birth or with retained fetal membranes or prolapses of the uterus, vagina or rectum.
Bobby calves: Must be four full days (96 hours) old with dry, shriveled navels and free from any sickness or disease. They must also be able to fully weight bare on all 4 feet with firm, worn hooves.
Animals that cannot be transported must either:
Be treated by farm staff and/or a veterinarian OR
Euthanised humanely on farm
Article by: Samantha Hood.