Until quite recently a pet greyhound was rarely seen. Most people's only experience of this graceful breed of dog is at dog race tracks or the sports channels on TV.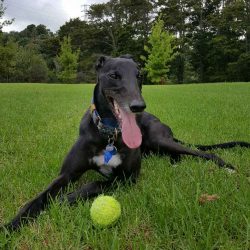 Greyhounds As Pets (GAP) is a charity that works very hard to find new homes for greyhounds after they have finished their racing careers. www.greyhoundsaspets.org.nz
Greyhounds make wonderful pets and, contrary to popular belief, need VERY   LITTLE exercise. They eat only an average amount of food and rarely become overweight.
Here are 10 great reasons to adopt a greyhound.
Greyhounds are generally quiet and placid dogs, who enjoy sleeping & idling around all day.
They love families but are not over active or "in your face".Greyhounds only need 2 short bursts of activity each day. Often a morning zoom, followed by a sustained sleep & then a second zoom about as the day cools off.
They are short-haired dogs, they do not shed much hair and have very few grooming needs.
They are social creatures and love meeting other dogs, especially greyhounds.
When you adopt a greyhound you enter a new world of diverse, happy people who are fellow greyhound enthusiasts.
They are excellent apartment pets as they need so little exercise or grooming care.
They are loyal & loving companions for people of any age or lifestyle. Owning a greyhound leads you to meet many new people who want to admire your dog and talk to you about them.
A greyhound is just as happy out walking with their owners as lolling around on the sofa at home.
Greyhounds may be a whole range of colours & patterns, ranging from jet black to mahogany brindle to red & white patches. For the fashion-conscious owner they enjoy wearing a variety of collars and coats when they are out & about. They also love cuddling up with stylish greyhound pyjamas in the evening.
They generally live to 12 or 14 years old and are the perfect companion for almost any age or ability of owner. Many greyhounds live happily with cats.
So… if you are looking for a new pet to add to your household, or searching for your first canine pet, please seriously consider adopting one (or more) of these elegant and beautiful dogs.
If you adopt a dog from GAP you will get a pedigree dog with very few inherited defects who has been neutered, vaccinated, registered & microchipped.
It is often said of Greyhounds that they are:
¨ The fastest friend you will ever make, and
¨ The world's fastest couch potato.
Dr Jules Wilson MRCVS