Companion Animal Vet
Jo was brought up on a hill country sheep & beef farm Northwest of Huntly in the Glen Murray area. She studied at Massey University, graduating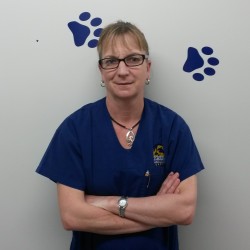 with her Bachelor of Veterinary Science degree in 1990. After graduating, Jo moved to the U.K, in Newbury she acquired her first veterinary position in a mixed animal practice where she worked for 18 months. Like a true Kiwi Jo returned to New Zealand in 1992 and found work in another mixed animal practice, this time in the sunny north for Whangarei Vet Services where she had a hand in both the large and small animal sectors of the practice.
After 7 years of work in Whangarei, Jo took 6 months to catch up with old class mates which she spent travelling around the South Island. She then ventured North again, doing some locum work in Pukekohe & Papakura before ending up in the big smoke where she worked in an Auckland small animal practice. Jo could no longer ignore the call of the North, and she returned to work again for Ross Woods at the Animal Health Centre, which became NVG in 2005, and she has been here ever since.
In 2008 Jo experienced a major lifestyle change with the birth of her daughter Sophie. In order to juggle both work and family commitments, Jo now has a part time position at our Maunu Rd branch working as a companion animal veterinarian.